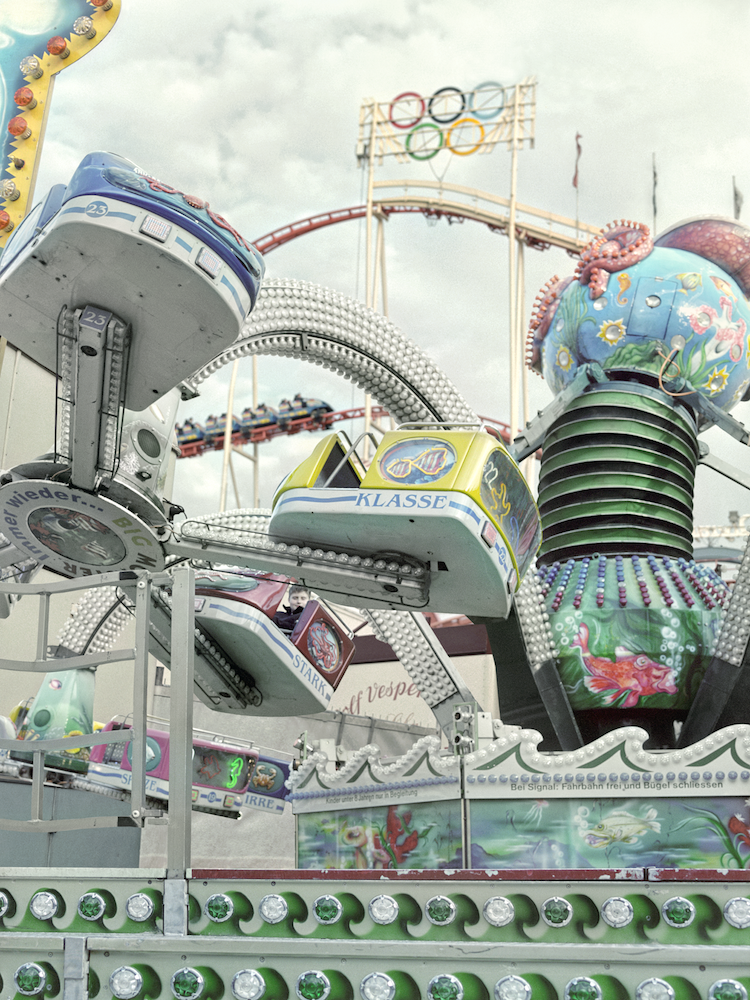 Moloch & Adventureland
– Virginia Garfunkel
---
The big city is both: risk and opportunity, the place of dreams and neuroses, the possibility of withdrawal or communication, Moloch and Adventureland… The contradictory nature of urban reality is the core of my work. Terms such as density, consumption, agglomeration, construction and destruction are the basis for my reflection on the city.
Through my photographic work, I attempt to stage the elusive dimensions of modern cities. It is focused on the representation of the city as a machine, as an anthill, an organism, Babel tower or panopticon: City structures and textures, created by the human beings, which become more powerful than himself.
The idea for the Series Moloch & Adventureland started, as usual, in a Berlin bar in dialogue with a friend over a beer. He is a writer and I am a photographer and we both love brainstorming our ideas and projects, be it a story or a series of images. We spoke about Calvino´s Invisible Cities, and that book became my unique source of inspiration. Our focus shifted from an attempt to discuss individual cities, to a more visual reflection on pattern, forms, model, an invisible order, and the rules governing the cities and their stories. On further reflexion the work of other artists came to mind: Georg Grosz, Hanna Höch and Lászlo Moholy-Nagy and their perception of the city as representation and technique.
For my visual construction of the city I went on a visual exploration of different cities, such as Buenos Aires, Berlin and Hamburg. I searched for elements and structures, seeking to find instances of agglomeration and density. The pictured elements, be it waste, containers, buildings or industrial tubes, helped me to connect urban reality with my thoughts about the city.
The images of Moloch & Adventureland are imaginary constructions, though made from factual reality. I found inspiration in architectural visualizations, artificial constructions wich focus on the architectural object where the human being plays a secondary role. The ambiguity of those images lies in the resonance between the real and the artificial.
My aproach is necessarily supported by technique: two different perspectives are always present, mostly upwards and downwards. I archived the resulting analogical images, in medium format, in negatives. I later intervened those images digitally to create a new image, always vertical. I built on my photographs as a city architect would: from the ground upwards. My palette of chosen colours adds depth to an intense feeling of decay, nostalgia and the power of the big city over its own constructor, the human being.
---
Virginia Garfunkel was born in 1979 and grew up in Buenos Aires, Argentine. She studied Photography at the School for Creative Photography Andy Goldstein in Buenos Aires and Visual Communication at the HTW University in Berlin. The photographic Series "Moloch & Adventureland" was her final Thesis, wich she presented in a solo Exhibition in the Gallery Richard Sorge Kunstraum in 2010 in Berlin. She has exhibited her works in Berlin, Cologne, Buenos Aires and Venice and was selected for several awards like the Bollini Foundation Price (Argentine), the Arte Laguna Price (Italy) and the National Price for Visual Arts at the Palais de Glace Buenos Aires (Argentine), among others. She lives and works as a freelance photographer and visual artist in Berlin.
Volume 1, no. 2 Summer 2017