Rooftop of the Total Palace
– Sonja Jankov
---
Total palaces were built all over socialist countries mostly during the 1980s, although examples can be found in prior decades. Originating from sports halls, total palaces were hybrid structures that united sports activities with cultural functions, as well as with leisure and shopping activities. They offered everything in one place, from restaurants, over the ice skating rinks and basketball halls, to various shops and cinema halls. In socialist manner, they offered everything to everyone as all citizens were considered equal, but also unique in their individuality. One such total palace is Linnahall: Lenin Culture and Sports Palace (today: Tallinn City Convention Hall), built in Tallinn for the sailing segment of 22nd Summer Olympic Games that took place in Soviet Union in 1980. Linnahall contains concert halls, ice hockey rinks and a helicopter landing pad. Another is Karen Demirchyan Sports and Concerts Complex in Yerevan, also known as Demirchyan Arena, Sports & Music Complex, built in 1984. It consists of two main halls – the Concerts hall and the Sports hall, as well as the large foyer, Hayastan conference hall and Argishti hall designed for diplomatic meetings, exhibitions and other events.
In the former Socialist Federative Republic of Yugoslavia, one of these total palaces is the Sports and Business Centre Vojvodina, is also known as SPENS – an abbreviation for Stonotenisno prvenstvo Novi Sad / Table Tennis World Championship Novi Sad, as it was built for this occasion in 1981. Živorad Janković, the architect who worked on it, also worked on several other similar projects in Yugoslavia: The Cultural and Sports Center Skenderija in Sarajevo, Bosnia and Herzegovina (1969), the Palace of Youth and Sports in Priština, Kosovo (1977) and the universal complex Gripe in Split, Croatia which was built for the 8th Mediterranean Games in 1979. As SPENS was one of his later projects of the kind, Janković went the farthest, introducing a postmodernist expression into his late modernist signature and concealing four pedestrian streets into the huge monolithic structure.
This series of photographs of SPENS focuses on the roof of this monolithic total palace for two reasons. Firstly, it is an element which covers all different functions within SPENS – 215 commercial rental premises, two sport halls, an ice rink, a closed and an open pool, a bowling alley, training halls, an amphitheatre, conference halls, a cinema, galleries, etc. Being a single element which, in a way, frames all this and users of SPENS, it somewhat resembles the idea of Yugoslav identity which aimed at uniting all people in their diversities. Secondly, it shows difference between planning in two different socio-political regimes. While the huge, flat, desert-like rooftop is a result of centralized planning and unique urban strategy, its surrounding is continually changing and proliferating into smaller and less connected units that result from neoliberal investors. Like the surrounding, the interior of SPENS is also changing and some of its former functions ceased operations – firstly those that showed to be unprofitable, such as cultural functions and the shooting hall. However, focusing on the roof, which is inaccessible without written permission, none of these interior degradations are visible and the latent potential of SPENS is emphasized. At the time of its construction, SPENS created "a new pole of urban centrality, unthinkable in the gravitational schemes of the earlier land use plans" (Mattioni, 2016). Its semi-used interior can become a cultural urban center, created in unthinkable schemes by newer generations. The 'emptiness' of the roof points towards this open possibility of giving new contents to SPENS, for example giving the unused premises to municipal and civil institutions who are in need of good enclosed space (Basauri and Berc 2012).
As Yugoslavia, SPENS is somewhat an unfinished project which never reached its full potential but, unlike the former federal republic, it still has potential. It was built from citizens' (obligatory) contributions and there is a strong protest against its demolition, an idea which the city officials raise from time to time.
Images
By Sonja Jankov
Sports and Business Centre Vojvodina (SPENS)
Location: Serbia, 21000 Novi Sad, Sutjeska 2
Year of construction: 1979 – 1981
Architects: Živorad Janković, Duško Bogunović and Branko Bulić, Centre for Urban Planning,Faculty of Architecture, Sarajevo
Site Area: 200,000 m2
Building Footprint: 85,091 m2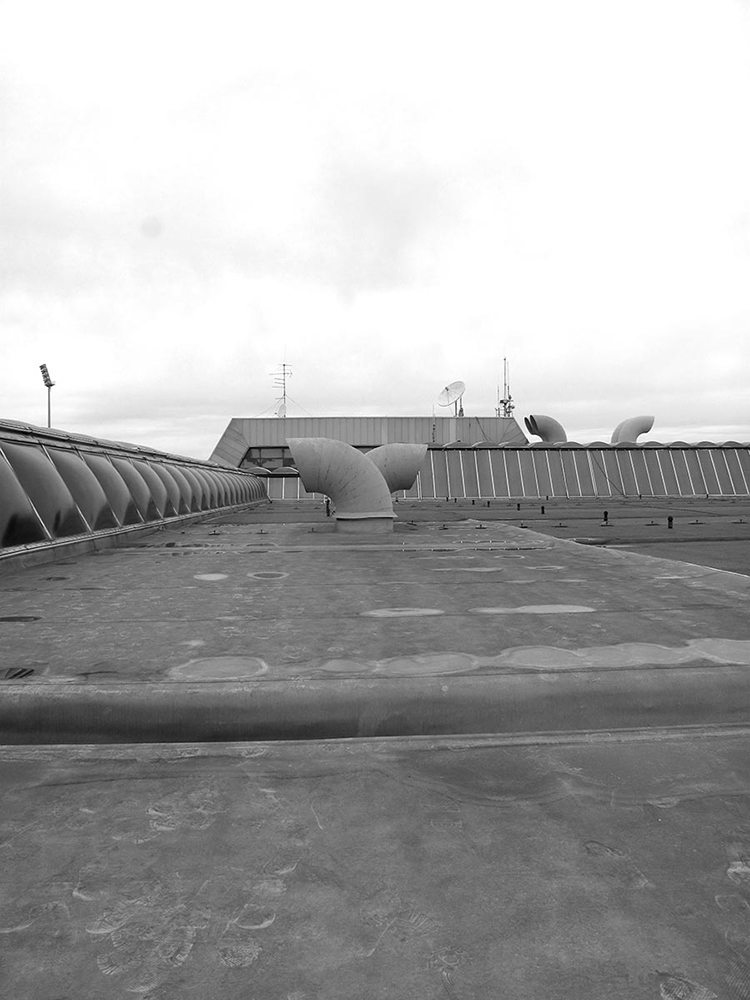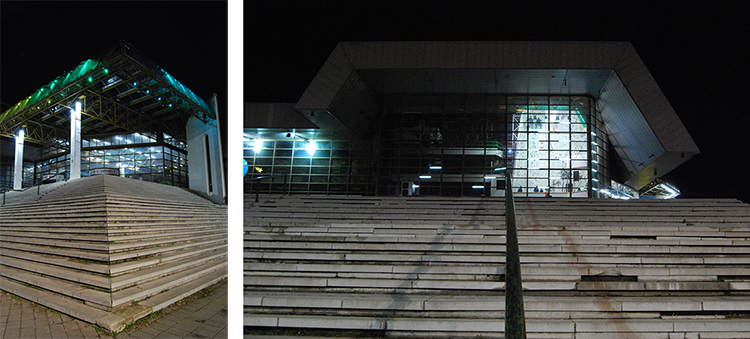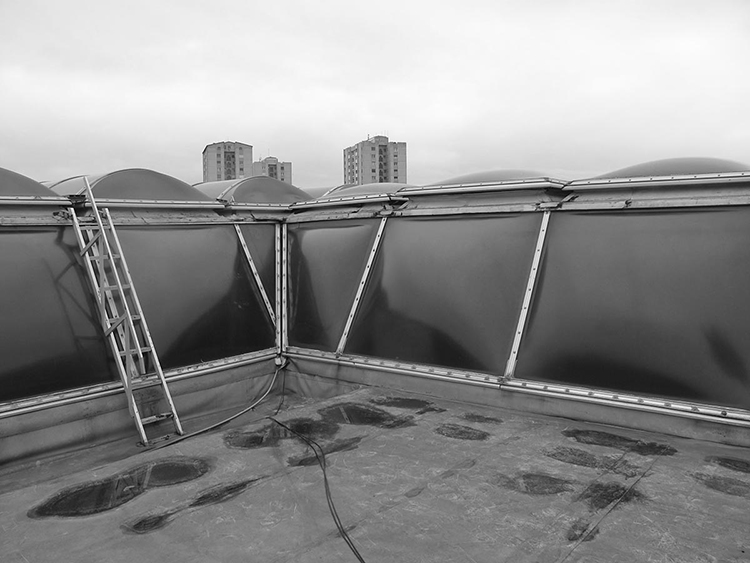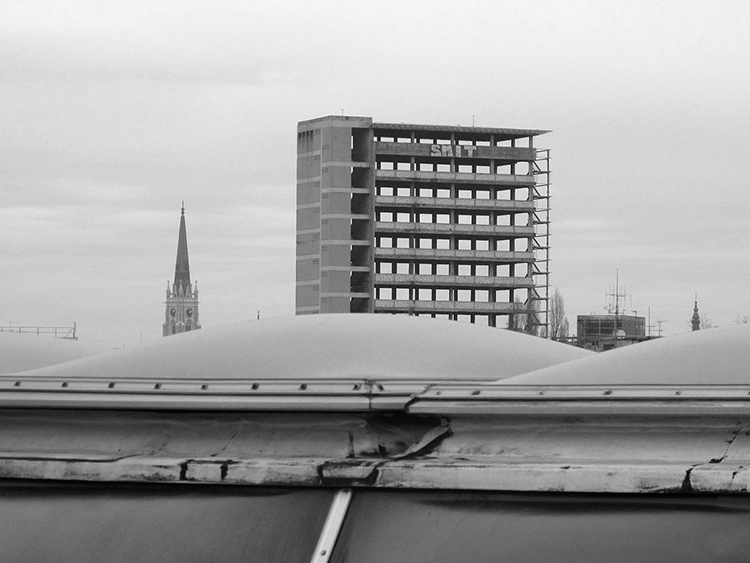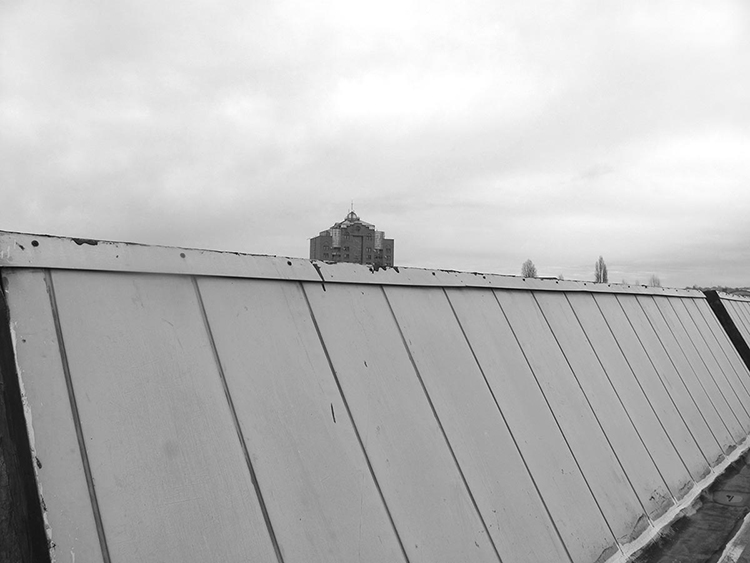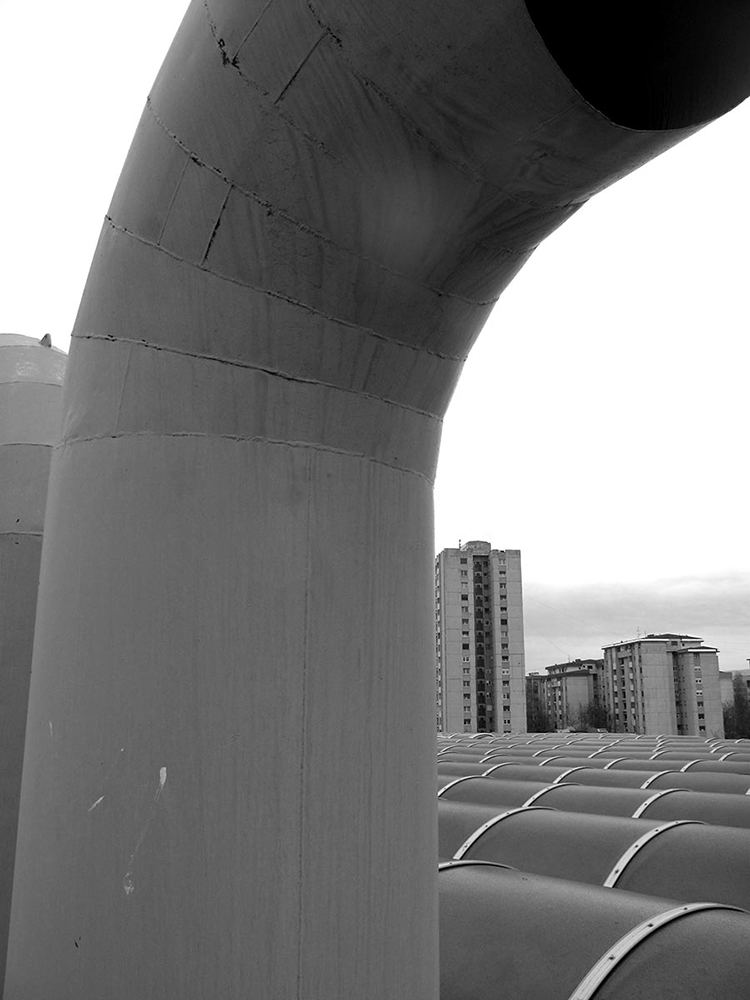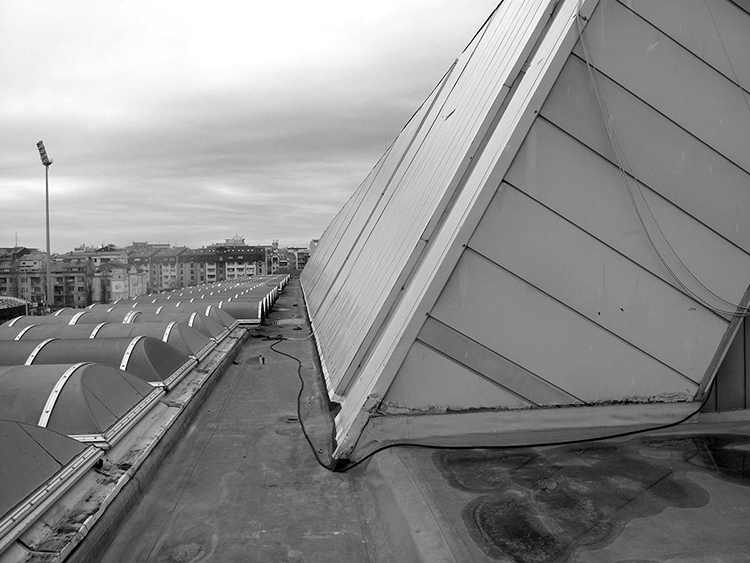 References
— Basauri, L. and Berc, D. (2012). Latency in the City: Voids in Novi Sad. [Online] Novi Sad: new media centre_kuda.org, p. 28. https://kuda.org/en (accessed 12.01.2020)
— Mattioni, V. (2012). Bespoke. Zagreb: UPI-2M plus, p. 307.
---
Sonja Jankov is an independent researcher and curator of contemporary art and relations of art to architecture, having taken her state exam in museum curation in 2015. She is also active as artist. In her practice, she uses art media (in-situ and/or site-specific installations, photographs, sketches) as much as academic writing to present researched issues. Jankov was part of the Future Architecture Platform in 2016 and author of several exhibitions and projects, including the long-term curatorial project GIF and Architecture: Visual Practice as Critique. She authored several academic papers, most recently "Full-Scale Architectural Models in Post-Yugoslav Art Practices" (Interkulturalnost 16, 2018), "Re-Thinking Architectural Modernism in Contemporary Art: Jasmina Cibic, Dušica Dražić and Katarina Burin" (AM Journal of Art and Media Studies 16, 2018), "Architectural Scale Models within Contemporary Art Practices in Post-Socialist Europe" (Život umjetnosti: Journal for Modern and Contemporary Art and Architecture 102, 2018), and "Pioneer Cities in Post-Yugoslav Context" (Architecture and Urbanism 44, 2017).
https://cargocollective.com/sonjajankov
Volume 3, No. 1 February 2020