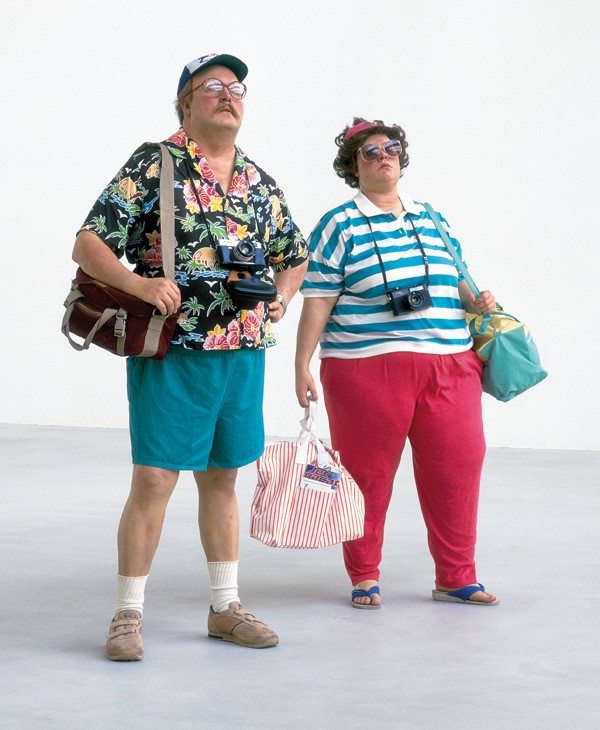 The art tourist
– Sofia Mavroudis
---
One of the largest and most important international exhibitions of contemporary art takes place only once every five years. Documenta, the exhibition that started 1955, is based in Kassel, Germany, but in 2017 the 14th exhibition was split between two cities: Kassel and Athens, with the title of the project being "Learning from Athens". This brought an unimaginable focus on the city of Athens when it was announced in 2013; a city weighed down by a socio-economic crisis, political turbulence and mean rumours circulated by the media. Almost as if it were a deliberately developed company brand, Athens became "the new Berlin" associated with interesting and edgy creativity. Both before and during the exhibition, Athens was visited by an international art crowd that usually travels to biennales and similar art events worldwide.
The point of this text is to discuss the phenomenon of the art tourist and the processes preceding their visit to a city like Athens. Looking at these issues from an art curator´s point of view, I can mostly raise certain questions that will require further analysis, while discussing the context in relation to the event´s choice of Athens as venue.
Art tourism is when somebody travels to a place to experience a specific art event, such as an exhibition, a festival, an art fair or a biennale. Art tourists differentiate themselves from mass tourism and avoid main tourism routes. They generally have a reluctance towards traditional tourists and may regard them as lacking the cultural competence required to appreciate events such as the ones they are visiting, which, in many cases, reaches a cultural crowd that already has insight into art. "Cultural capital" is the pre-existing knowledge, skills, competence and experiences someone brings with them, whether it is to an art event or to a different culture. Travelling, for the art tourist, is an activity, not an escape, with the prospect of expanding one's personal or professional interests. This creates high expectations of the visited event or place in general, as the art tourist expects their visit to be meaningful and educational.
Cultural heritage is regarded as having an essential value to humanity as a whole and be an important part of a culture´s identity. Contemporary art is more current than heritage – the art tourist doesn't travel to places for its site-specific cultural heritage, but for temporary exhibitions or art events that are set up for a specific time period. The art is usually international, and they might have encountered it before or will encounter it again in other cities during different events. In this sense, the visited place risks being of less importance than the temporary event that is hosted, and the city mostly acts as a backdrop.
This was part of the criticism of Documenta 14 – that the organisational team was concerned with the city of Athens mostly for what it stood for in a theoretical sense as a way to illustrate the zeitgeist of our time. Athens symbolised a capitalistic down-fall, urban decline, political pressure and despair that fit as a context for Documenta's concept. This makes me think of John Hinde, the British photographer and founder of a postcard empire in the 1960s, who with his pictures shaped our idea of holiday destinations and has been accused of misrepresentation and tropicalization. According to the critics, the interest in Athens associated with Documenta was created in an "exotic" way by distributed images of a crisis-struck city for, as they called it, "crisis exoticism" or "crisis tourism".
One way to upgrade a city or an area is the well-known gentrification process that numerous neighbourhoods and cities go through, an infected issue; some argue that it´s a natural progress of urban renewal that offers revitalisation with new business, and cleaner and safer neighbourhoods; others claim that it´s part of a specific urban politic that aggressively pushes out low-income residents.
A widespread theory is that creative professionals, like artists, play an essential role in creating a buzz in an area that leads to urban renewal. Through their attempts to find areas with low living costs and rents, they create interesting neighbourhoods full of life that attract galleries, cafés etc, that will eventually bring the developer and the investor that recognise the potential. New shops and bars pop up and the area appeals to the already established players that want to be a part of the creativity. The initial buzz is transformed into significant attention and might give birth to an event that, together with the fame the area has acquired, will manage to attract someone like the art tourist.
Art tourists are part of the "new" tourists that blur the prior divisions between tourism and everyday life by looking to immerse themselves in local culture and environments as much as possible, searching for this crucial and meaningful "authenticity". But is that really there? Are they not aware of the process of change some urban areas go through? And how exactly is their experience authentic? "Authenticity" is a questionable term to begin with. Is it more authentic if something is part of the development of its surroundings? If it´s frozen in time? Or if it´s restored to be like it was in a specific time period? When does a place cross the line from being authentic to being in a specific way just for tourist consumption?
I believe that the art tourist travels to an area just because of the fame it has acquired, and happily participates in any newness that it brings with it, like the recently opened bars or life-style boutiques. Despite the criticism towards Documenta, the event never tried to immerse itself in the local life in the first place, regardless of what people were expecting of it. It is possible that the organizers felt that Athens already had an interesting vibe to begin with and came as the "already established player that wants to be part of the creativity" as mentioned before.
Contemporary art definitely has the ability to create attractive areas and to appeal to a certain type of tourist that will continue to provide the area with a positive international reputation. Documenta spread out their events around Athens, using public venues and museums, the auditorium of the school of art as well as public spaces. But the audience it set out to reach was not really the average Athenian and not even the typical Athenian artist, but an international art crowd that would travel from abroad specifically for the event. Athens was used as its stage. This is not necessarily something negative, as long as it´s done sensitively and is carefully managed so it doesn´t create an unbalanced atmosphere between the locals and the tourists. Like every other part of urban planning, art tourism needs management and what I´m arguing in the case of Documenta is that the expectations of the locals – where many within certain social groups were reluctant to begin with – didn´t really match with the concept of the event. Notions like expectation and concept are important parts of an urban wellbeing and if they are not fulfilled then the success of any project that takes place in an urban context is questionable.
Time will tell if Athens benefited from hosting Documenta. I believe though, that it achieved its purpose towards the art crowd internationally, as an event and as a continuation of Documenta, and thus even towards the art tourist coming from abroad to Athens specifically for the exhibition. Their expectations of an interesting and vibrant city were realized, probably even including a tone of the crisis that was expected to be noticed in the city, in its architecture and the different neighbourhoods the tourists visited. "New Berlin" or not, the attention towards Athens has the potential to grow, presenting a positive image to a new category of tourists.





---
Sofia Mavroudis is a Swedish-Greek contemporary art curator, who has cooperated with art galleries, museums and institutes both in Stockholm, Athens and Crete. She installed the largest art gallery on Crete and directed the gallery for three years, bringing established artists from all over the world to the island. With a masters in curation from the school of art in Stockholm, her subjects of interest are site-specificity/displacement, urbanism, architectural theory and most recently a combination of art and tourism.
Volume 2, no. 1 Spring 2019