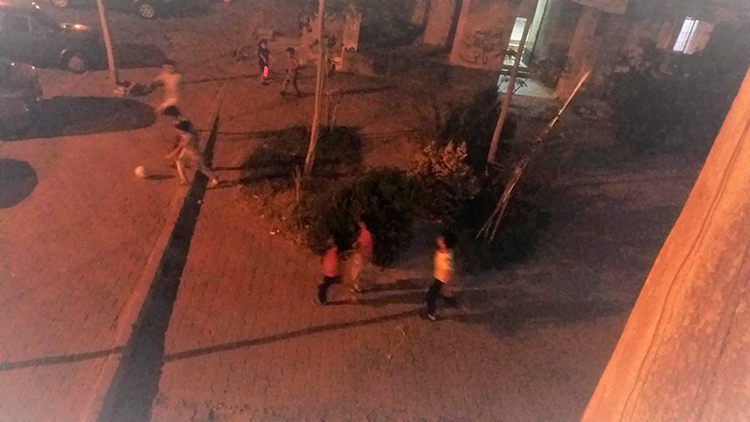 Children's hopes and well-being
– from Tayseer Khairy, New Cairo, 26.05.2020
---
This is a photo I took from my window of a group of children playing football in the space in between two buildings in Ramadan during night curfew hours. As a resident, an architect and urban researcher with experience and a special interest in designing places for children, the idea of how urban space responds to children needs, during the time of pandemic in the Egyptian context, has attracted my attention while living and observing in New Cairo, Social Housing project.
No doubt that the global health crisis of COVID-19 had brought different perspectives on city planning and urban design as well as architectural design in recent research and discussions. Those perspectives are still evolving and will continue to since this global health crisis invaded the whole world with more than 400,000 deaths and 5.5 million confirmed cases according to WHO in May 2020. By 26th May 2020 17,967 cases, 4,900 recovered cases and the deaths of 783 were confirmed in Egypt according to WHO. The Egyptian restrictions and lockdown started in mid-March 2020 included the suspension studying inside schools and universities, which have been transformed into online platforms. Residents all over the country started to become bored and people decide to break the national restrictions in many areas, especially those who have kids and suffer in exploring ways of enjoyable activities indoors. Residents are leaning on their neighborhoods as a crutch for maintaining their physical and mental health.
Looking into the Egyptian context with a special focus on the social housing (neighborhood scale), I reflect on what matters the most for children's well-being and fulfilling their hopes in their neighborhoods during pandemic time. Due to the high temperature during the daylight, which already varies between (14-34°C) in those areas during that time, children have been only breaking the curfew hours during the night in-order to enjoy gatherings and playing in spaces in between. Areas are also more attractive to children when they have more light and trees, which encourages more airflow. The green areas are also noticeably used more often during the daylight, especially the ones are with mature trees, providing more shaded areas from mothers to take children outside. At the same time, those areas are often left empty during night as they are not properly lit. Older children can be noticed gathering and forming bigger teams to play football in streets that have wider spaces and good quality lighting. Sidewalks that in some places are in good quality and range between one meter to one meter and half in width are also attractive to younger children for biking. To quote Gehl regarding the pandemic "Cities have new opportunities to creatively adapt urban spaces in service of individual and collective health — whether that means widening sidewalks, creating more bike lanes, or bringing retail onto the street" (GEHL BLOG, 2020).




POST(COVID)CARDS